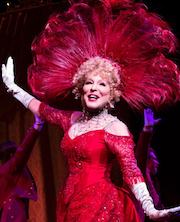 BETTE MIDLER – "Hello Dolly" – On Broadway! "What else do you need to know?" ask the TV commercials for this apparently hard-to-fail concoction.
Well, in response to those ads … I'd say that, apart from dates, times, ticket-prices, etc … we might also need to know that this classic musical from 1964 is these days looking and feeling tired.
The great (indeed 'Divine') Miss M, is having to call upon every inch of her legendary on-stage majesty to carry this venerable star-vehicle – so wacky and kinda weird … in this, its fourth revival on the Great White Way. It opened tonight at the Sam S Schubert Theatre.
In large degree the play's tiredness doesn't really matter. It's unquestionably one for the Fanbase – and they have shown up dutifully and in great force. Far from unexpectedly, Midler was given not just applause, but a raucous, long, theater-wide standing-ovation the minute she made her first appearance. I couldn't say (wouldn't dare say!) that it held up the play's progress at all.
Some surprising delights came my way, I do have to acknowledge. David Hyde Pierce is undoubtedly a terrific comic actor, on the live boards as well as in recorded media. But who knew he could sing so well? (Well, at least I didn't – though I may be revealing blitheness to match Donald Trump's unawareness of healthcare's complexity, or his realization about China and North Korea policy that: "it's not so easy".)
One Hyde Pierce highlight – a previously cut and unused song from composer and lyricist Jerry Herman, "A Penny in My Pocket", laying out the financial philosophy of his character, the businessman Horace Vandergelder. Hyde Pierce's vocal rendering is a compelling and gratifying eye-opener.
The gaudy, sweetly excessive costumes do engage the eye – and everyone's singing and the orchestration certainly has the requisite gusto. I came to get most fully comfortable with the evening when my senses began to simply take the whole thing as a period-piece – especially since much of the acting, notably that from Divine Miss M, came spiced with broad and knowing winks. It was more complicit camp-ness than subtle dramatic irony – but it was fun. I repeat: a wacky, weird kind of fun.
I left the theater without exactly whistling any of the tunes … but I did marvel at having been a teenager the year Hello Dolly was first rolled out, one who played guitar in an amateur band in Northwest England. This a whole year after our regional role-models, The Beatles, had already revolutionized the entire world's understanding of popular music. For many people perhaps, but evidently not for everyone.