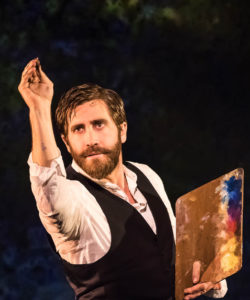 AS THE MOVIE industry indulges itself in awards and congratulations at Oscar time, here on the East Coast the medium of stage drama has hit one of its own commanding heights. And crucial to its success is a movie star, Jake Gyllenhaal (left).  
He undoubtedly has legitimate acting chops on the boards, but in this piece, Stephen Sondheim's Sunday in the Park, which opened Thursday at New York's newly and lavishly overhauled Hudson Theater, Gyllenhaal is called upon of course to sing. In his leading role as the painter Georges Seurat (and also as another 'George' of less definite historical identity, in the second act) he gets to sing his heart out – and his head too, in subtle registerings of internal contradiction – with an exquisite control that does full justice to Seurat's visual expressions of creative exuberance along with deep tension.
It could be a transformative role in the career of this established star of such brooding movies as Brokeback Mountain, Jarhead and more recently Demolition – which I reviewed after its US premiere at the South By South West festival last year.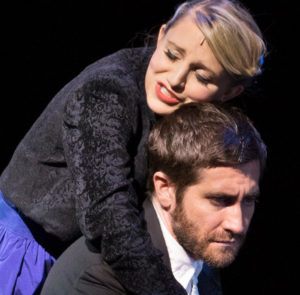 And Gyllenhaal's singing is more than matched by his partner Annaleigh Ashford (right) a Tony-winning veteran – though still young – of Broadway musicals. The pair's duet as lovers and as model and painter, "We Do Not Belong Together" is achingly harmonious and sundering at the same time. Ashford gives us extra lusciousness in her verbal and physical portrayal of 'Dot' the model, and extra sharpness in Act 2 as the now-elderly daughter (maybe?) born of that nineteen-century liaison explored in Act 1.
Under the direction of Sarna Lapine (niece of James Lapine, Sondheim's original librettist and director for Sunday in 1984 and his frequent magisterial stage interpreter) this version of the play – Broadway's third – appears to me more holistic and complete than ever before. A scrim divides, but doesn't quite divide, the actors from the orchestra. Elaborate images to convey the development of Seurat's pointillist masterpiece, "A Sunday on La Grande Jatte" (below left) are projected onto it.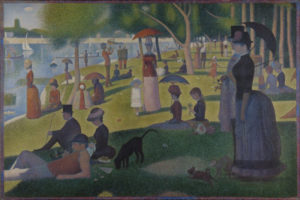 It inescapably evokes a painter's canvas, but we can often glimpse through it the busy elbows and bows of string-players as they provide the musical energy and emotional undertow propelling the whole performance onward.
Under Music Director Chris Fenwick's crisp baton, the somewhat less visible of the two ensembles on stage embraces its role with gusto and finesse. Deep power, too – for it's worth reporting that in this iteration the previously small-scale troupe has been expanded, and an upright bass added to the orchestration for the first time since the show's inception. That bass-line firmly drives the heavy end of the harmonies home. And the fact that we see as well as hear all this very intentional musical fullness, filtered visually through late-Impressionist colors, helps to fulfill this veritable tour-de-force in mixed-media.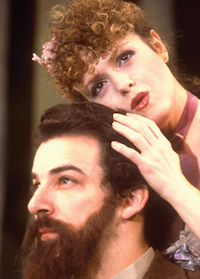 It's often said that 1984's founding performance, starring Mandy Patinkin and Bernadette Peters (right), remains unbeatable. That may be true, but I bumped into Peters at the opening night party for this latest effort. "I think it's just wonderful", she said; "it's simply the best." She felt that Gyllenhaal found wholly new dimensions in the 'George' character, and that Ashford too was a more than creditable successor in the role that Peters herself inhabited first – and for which of course she memorably gained a Tony Award.
Peters wasn't just being gracious. And my own gushing today – not customary about anything on Broadway for a long time – is testimony to the fact that I absolutely agree with the originating lady.