THE KKK IS A BENIGN FORCE. That is, when it's the Kinetic Kevin Kline.
Of course this multidextrous actor repeatedly brings his universally acknowledged comic genius to film, tv and theater performances – as well as, just as often, profoundly serious dramatic mastery. But this time it's his movements that dominate, during his tent-pole performance in the new Broadway revival of Noel Coward's "Present Laughter", at the St James Theatre until July.
His constant mobility provides the key to his repellent but somehow (through Klein's craft) sympathetic character.
He plays the insufferably charming, endlessly self-consumed, and inescapably aging West End matinee idol Garry Essendine. As we'd expect Kline embodies a easeful show of calm and suavity – but it's undercut by deeply fidgety restlessness and uncertainty.
We'll also be familiar with Kline's deftly comic kinesis from roles like "Don't Call Me Stupid" Otto in the movie "A Fish Called Wanda" (which I recently re-watched in breath-defying giggles veering toward catatonia). There he swung rapidly from arm-windmilling to a low Groucho-like run that contrived also to be menacing, and made for a meaningful contrast with co-star John Cleese's pomposity-puncturing, trademark long and loping stride.
Here on the stage, Kline offers us frenzy, yes, in carrying out Coward's farce-ful and frenetic stage directions (during repeated answerings of a doorbell, for instance) but he does so with a studied effort at restraint and containment that wins gales of very present, indeed all-consuming, laughter throughout the auditorium.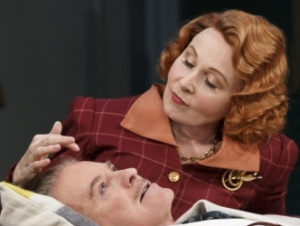 Kline is matched by the powerful Kate Burton, who is equally deft and sly (at being managerial, though it's leavened by compassionate insight) in her role of the ex- (but still absolutely essential) -wife. Cobie Smulders in a Broadway debut, is slinkily effective as the seductress who endangers the cottage industry that's been built up around Klein's character (perhaps I should say Georgian Townhouse industry). And Cobie richly inhabits that evocative last name of hers, with a fine line in smouldering — as I won't be the first or the last to observe.
Kristine Nielsen battles valiantly, and I'm glad to say winningly, with the potentially vacuous role of the ingénue who falls for the rogue … hook, line, and lost house-key.