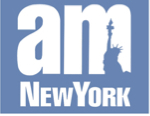 [First published in AM New York]  
YOU'LL HAVE ADMIRED the Time Warner Center, of course. The communications giant doesn't, you probably know, occupy that entire eponymous Center, but Chief Executive Richard Parsons was eager to get the company name emblazoned on the whole luxurious shebang of a building  …  top-notch restaurants, glitzy stores, pricey food market and all.     
However, check into a room at the Center's super­-hotel, the Mandarin Orien­tal, and tum on the TV. Who supplies the cable service? Time Warner, surely?
Umm … no, actu­ally. It's the pip-squeak service RCN, just emerging from bankruptcy under CEO David McCourt.
Why them and not the building's anchor company, which after all supplies 1.4 million New York viewers, compared with RCN 's 85,000?
A Mandarin spokesper­son explained that T-W had not proved able to develop a delivery system that was compatible with the hotel's software for billing its customers.
– – – – – – –
SINCE 9/11, and increasingly so after Iraq, Americans have been turning to Britain's BBC as a news source.  No surprise that New Yorkers lead this trend, with California not far behind. Less predictably perhaps, Michigan and Wisconsin are the next biggest viewers.
Clearly unsatisfied with homegrown coverage, American news consumers are finding what they want on the increasing number of local radio stations that have decided to carry the BBC's World Service.The stations get it from Public Radio International, the cheeky, younger distributor set up to rival the venerable Washington­-based NPR. New York tele­vision viewers also have the choice of two channels, WNET and WLIW, each carrying the video news service "BBC World" for a half-hour each weekday.
But watch out, BritNews­ junkies. The BBC may not prove a dependable provider of world-class fare forever. Fact is, its finances are looking shaky. It has always derived its income from British taxpayers, but is now coming under fresh and deeper scrutiny.
Earlier this year its two topmost executives had to resign following some sloppy journalism that accused Tony Blair of exag­gerating the WDM  motive for invading Iraq.  (That might sound now like good reporting, but for various personnel-centered reasons, it simply wasn't.  And, quite horribly, it also involved a reporter's source committing suicide. Alto­gether it was a human, jour­nalistic and political disaster.)
The BBC's Charter, including most crucially its funding, comes up for renewal by the government in 2007, and the Corporation is under­standably nervous.
So this week BBC gears crashed into retrenchment. Three thousand jobs are suddenly being cut in a bid to save over $600 million a year.  And London has been judged such an expensive base that nearly 2,000 employees are being evacu­ated to the provincial center of Manchester – bringing horror to many.
I don't blame them, having spent a decade myself in that Victorian city.  Early twentieth century essayist William Bolitho gave it a pithy review: "The shortest way out of Manchester is notoriously a bottle of Gordon's gin."
BBC sports reporters are especially upset, since they have to leave town while London is bidding for the 2012 Olympics. They'll be even more upset if London wins.
– – – –
INTERESTING TO HEAR that last week's MEDIA BEAT caused a stir at Business Week. Especially my reporting that the magazine's publishers want a shake-up, not continuity, in replacing longtime editor-in-chief Steve Shepard. And so this week, complete outsider Steve Adler from the Wall Street Journal is confirmed as the new boss, arriving in January. "Exciting times ahead," according to one BW insider.