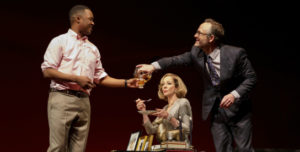 IT'S ENTERED THE LANGUAGE and become a fixture, that not-entirely-convincing adage: Six Degrees of Separation. Only four other intervening people, supposedly, are needed to connect any two individuals in the world that we might pick.
What is indisputably convincing … is Allison Janney's performance in the new Broadway revival of John Guare's compelling, unsettling social satire from 1990, which opened tonight at the Ethel Barrymore Theatre.
All three principals are persuasive, including Corey Hawkins as the young black conman, and John Benjamin Hickey as the Janney character's art-dealer husband, but it is Janney herself who carries away the fullest laurels.
Her artful, but never contrived, projection of self-contained strength, along with the deepest of longing that gets clearer over time, wins us over completely.
And persuasiveness lies at the heart of this play, as as we watch the impact of Hawkins' duplicitous character "Paul", who passes himself off as Sidney Poitier's son, spreading among a varied group of Manhattan's prosperous Upper East Side residents.
Hawkins' performance as the consummate hustler (for such he is, and we learn something of his earliest coaching in that art) is poignant as well as beguiling. Rarely has it been so clear, in Paul's clever (or instinctual?) delving into his targets' minds and hearts, that a con's victims can be oh-so-willing to be deceived … once the deceiver senses keenly the emotional needs of the target, as of course the deceiver must.
Hawkins draws a fine line of possible self-deception into his portrait of Paul weaving his webs of deception upon others. And especially toward the play's end the portrait takes on a strong but inconclusive suggestion of psychopathy.
And so Janney gets to display, in her turn, a deeply affecting compassion for the person who has thoroughly tricked her. Her character's decisive move, persuading Paul to give himself up to authorities, gains all the more sad irony as the trickster ends up tricked himself – and her compassion is completely compromised.
'Six Degrees', directed by Trip Cullman, is booked for a limited run of just 15 weeks, through July 16th.