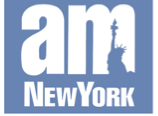 [First published in AM New York.]  
SO HOW GOOD A JOB did the mass media do covering the election? The voters' choice, at least as defined by those media, was clear – but it had the clarity of an LCD. Not liquid crystal lighting, I'm afraid – but the Lowest Communicable Denominator.
Voters, we're told, opted for certainty and so-called "steadfastness" (with Bush, supposedly) over thoughtfulness and a readiness to embrace change (claimed by Kerry) – a choice clinched by a slim majority of 3%. Any more elevated or sophisticated examination of the alternatives went entirely missing from the airwaves and most newspaper pages, right down to the day of decision.
"Big Media" was using some crude tools as it reinforced that crude choice. And finally there's
little as crude as an exit-poll on D-Day itself. Continue reading "Even Those Who Study Past Mistakes Repeat Them" »