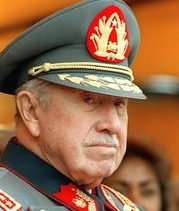 [First published in AM New York]
YOU HAVE to be SOOOOO careful with these Latin American dictators. That applies even if they're 89 years old, sickly, and out of effective power for eight years.     
General Augusto Pinochet has been freshly investigated in The New York Times' business pages, just as he faces charges of kidnapping and murder during his time as Chile's head of state.
New details about the general's personal fortune are emerging from the U.S. Senate's probe into suspected money-laundering by his bankers, the super-secretive Riggs Bank of Washington. The first Times article was assertively headlined "U.S. and others gave millions to Pinochet."·
That surely fits with what we know of Pinochet's road to power. His rise actually began with a 1970 meeting in Richard Nixon's White House, held just after Chile had democratically elected a Marxist president, Salvador Allende.
National Security Adviser (later Secretary of State) Henry Kissinger declared "I don't see why we need to stand by and watch a country go Communist due to the irresponsibility of its own people".
Fateful words … setting in motion the bloody CIA-backed coup of 1973 that handed Chile's presidency to Pinochet.
But just follow the money for a moment as well as Kissinger's policy. Were US government funds – our tax dollars – used to reward Pinochet for his coup and his subsequent equally vicious period of rule? The Times seems to have believed as much.
However, a South American newspaper phoned The Times last week to follow up on the suggestion that Pinochet received $3 million from the U.S. government in 1976. That year, a left-leaning Chilean former diplomat was killed in Washington, part of the trans-national assassinations conspiracy among intelligence services known as "Operation Condor."
This outside journalist' s inquiry, I'm told, made Times editors think again. They decided they couldn't financially finger the CIA or any other US agency until there is ironclad proof. A discreet Editors' Note was later published: "The article should have allowed for the possibility that some payments may have come from non-governmental sources."
Such caution is wise. Pinochet's international band of apologists always stands ready to defend him. Four years ago, his 17-month house arrest in Britain, ended when his lawyers eventually managed to beat a crimes-against-humanity extradition warrant from Spain, flushed out an intriguing collection of powerful backers.
Margaret Thatcher was the most notable, but the now-derided media mogul Conrad Black of Canada also praised Pinochet on the grounds that, unlike strong-men such as Mao Tse-Tung and Joseph Stalin, he did "democratize and retire."
THURSDAY, DECEMBER 16, 2004