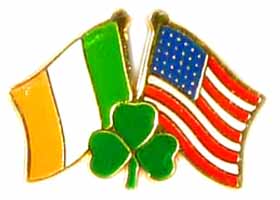 NOW IT'S THE TURN OF THE IRISH. America's media industry has been, like it has for many years, observing Black History Month in February, and as we make the turn into March it's considered a good time to be emphasizing all matters Irish – if only because St Patrick's Day happens to fall a little over half-way through the month.  
Expect much attention to be paid, for instance, to President Donald J Trump's pick to be the new US Ambassador to Ireland. It's Brian Burns (below right) an attorney and real estate tycoon whose father was a noted close adviser to Joe Kennedy, JFK's father and US Ambassador to London in the 1930s.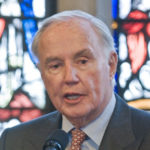 Burns' selection will come as little surprise, since it's already been widely bruited in Irish media sources like the Irish Voice newspaper and its sister website IrishCentral.com – and in the Boston Globe, which is often regarded, for all its big-city inclusiveness, as a parish paper for the Irish-American community.
The President went about the nomination process in, shall we say, an unconventional manner. He chose to voice his choice personally to reporter Maggie Haberman, a close Trump-shadower who works for the New York Times. That's despite Mr Trump's condemnation of the Times as a paper whose "intent is so evil, and so bad" … or at least that's how he put it to Breitbart News this week.
There's plenty of reason for the Irish-American community to welcome Burns becoming America's future resident in Phoenix Park, Dublin. His lineage has a lot to do with that, stretching back through a grandfather immigrating from County Kerry in Ireland's far West Coast, and the family achieving much business success in the US, plus providing generous philanthropy as well as some sturdy government service along the way. Brian Burns and his wife Eileen (below) have also amassed the most comprehensive and select collection of Irish art in this country, or indeed the world.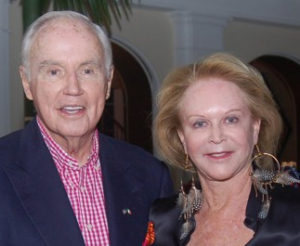 My own soundings in Washington suggest the Senate will offer no real block to confirming Burns. That is the word whether I talk to politically-involved Irish-Americans, or to any other brand of operator in the Beltway. Those who know him admire his directness and down-to-earthedness, leavened as it is with warm Irish humor.
Another important strength Burns that will enjoy, in these often baffling times of administration-building, lies in not being one of those who have to get newly acquainted with Donald Trump. He has known Trump for a decade – has long done business in the same realm, and is also a long-time neighbor of his Mar a Lago estate in Palm Beach, FL (and perhaps inevitably is a member of that club too, frequently dining with the owner).
IT'S AN IMPORTANT APPOINTMENT. Alert observers of the current state of Ireland, south and north, have felt growing concern about the continuance of the Good Friday Agreement, signed in 1998. The deal was reached, you'll recall, between parties in Northern Ireland, the Republic of Ireland, and the United Kingdom – and it was underwritten, significantly enough, by the United States.
Since then for all sorts of understandable historical reasons, it has faded from the forefront of American attention – a place it had certainly enjoyed under Bill Clinton as President (and, let it not be forgot, with the tireless Jean Kennedy Smith as his ambassador to Dublin.) Both were impelled and well-buttressed in their efforts by their Irish-American connections.
I especially remember Clinton's seminal speech alongside Derry City's historic walls back in 1995's Christmas season of peace and goodwill, powerfullly quoting Derryman poet Seamus Heaney to urge all the negotiating sides onward: "The United States will reach with you. The 'further shore' of that peace is within your reach".
*** WATCH some of Bill Clinton's contribution to the Irish peace process in this extract from my historical TV documentary, centered on Derry's emblematic role in 'The Troubles'. The clip begins with the Irish-American community's interaction with Clinton, and Nobel Peace Laureate John Hume lays out the challenge in peacemaking.
Clinton & Irish Peace (Derry) from David Tereshchuk on Vimeo.
As I write now, the Northern Irish population is about to vote in a whole new Assembly for its part of the island – because two months ago the previous one collapsed in sectarian-tinged enmity (the bane of British-ruled Ireland for centuries).
The UK voting as a whole in 2016 in favor of Brexit (evidently with some regrets now) has brought about yet another dimension of Irish instability. One part of Ireland stays in Europe, while the other does not? That long-disputed border is set to become as vexing a question now as it ever was. The British newspaper The Guardian, noted for its thorough Irish coverage – through the terrible murderous years of "The Troubles" and since – concludes in an editorial this week that "this is in fact a new time of danger in Northern Ireland and in Ireland as a whole".
Before too long, it is all too likely that the whole overly-strained Irish peace process will once again need the intervention of a strong and helpful American hand.  It could be a comforting thought that America's new ear to the ground in Ireland can be relied on to firmly relay all necessary messages to the Oval Office … and that the line of communication is clear and direct.